Thursday, February 26, 2009
Wednesday, February 18, 2009
I have been keeping myself BUSY! I have created a TON of single page 12x12 layouts for sale. Each page has a different theme, One of my original paper piecings and lots of fun details including prima flowers, Ribbons and MORE! Here are just a few I have available for sale on ebay now!
LINK TO PAGES
Posted by Julie Berset
at Wednesday, February 18, 2009
0 comments

Sunday, February 15, 2009
So i have really neglected my Blog and am feeling chatty today so here I am again! Because my hubby is leaving in a few short weeks, we are trying to do lots together and making lots of memories to hold onto while he is gone. Last week we made a trip up to flagstaff, AZ ( a few hour drive Up north in Arizona) and went skiing! here are a few pictures of us "tearing up" the slopes. This was only my second time skiing. I can tell I am getting older and wiser. The first time we went skiing 4 years ago I ski'd down a black diamond slope (VERY STEEP for advanced skiers) this time we did beginner slopes and one intermediate slope. I refused to do anything that made me shake in my ski's!!! lol
Here I am on the Bunny slope getting familiar with the Ski's.
and here is the Love of my Life.
If you have ever been skiing you know its VERY exhausting! If i could give any advice I would say DONT drive after a day of skiing, get your hotel the Night after skiing and not before... we always make this mistake and drive home POOPED!
Allthough Tyler is one year too young to Ski, My mother in law drove up later in the day with Tyler to let him r play in the snow. (we dont get ANY snow where we live)I know where my husband aquired his selflessness trait. Gary and his mom and are the most generous people I know. They will do anything to make the people they love Smile. I am so blessed to call them both my family!
Here are Tyler, Gary and my Mother in Love Sharon.
We had such a nice mini trip!
in my previous post I noted That we have moved in with the inlaws.... OF COURSE i cannot just quit my work, and i actually think My scrapbooking career will help get me through the times where i feel lonely or sad. I am BLESSED with a FABULOUS office to create in while I am here with the inlaws. My Mother in law used to work from home and is now working out of the home and has allowed me to clutter her beautiful office with all of my scrapbooking goodies. This office is BEAUTIFUL and I am so excited to share some pictures of it!
Here is a view of the Whole Office. It is open to the Family room AND living room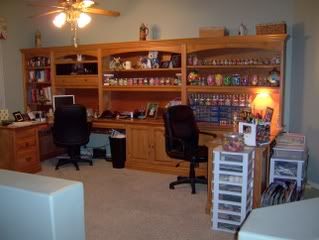 and here is a close up of My side.... I was so nervous all my stuff would overwhelm My inlaws, but once my Mother in law (WHO IS MORE THAN A MOTHER IN LAW, BUT MY MOTHER ON LOVE AND A DEAR FRIEND) saw it together, said it looked good and Colorful!
after 10 years of collection scrapbook goodies, I have quite the collection.... I do my best to not hoard and try to use LOTS of goodies on every piece I create.
I use all these little drawers for my themes buttons and charms. I keep them right where i work, because sometimes i forget what i have!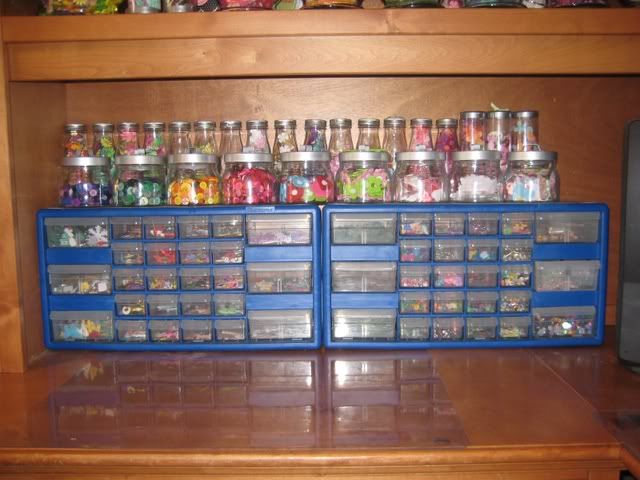 Its hard to pick a favorite part of this office But these half walls fit my paper storage racks and drawers PERFECTLY!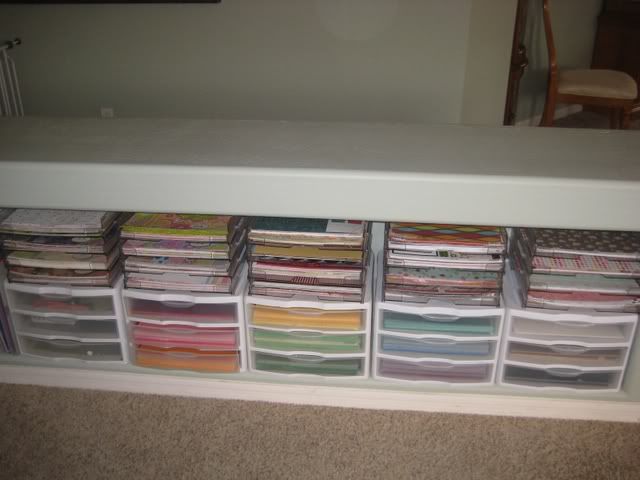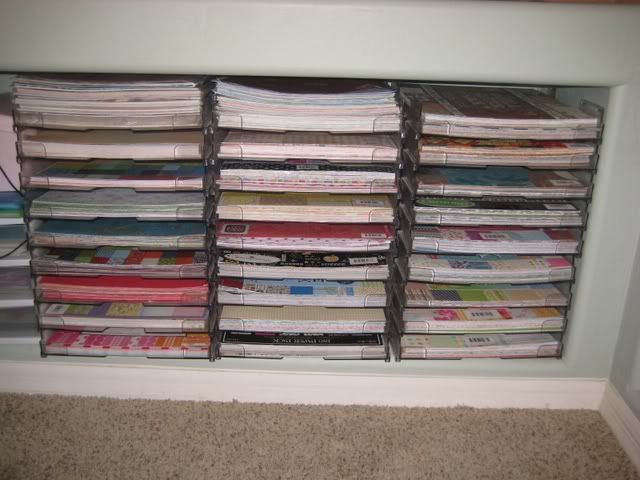 I do have to say I miss hanging all my stuff right in front of me on my pegboards, But I am certainly NOT comlaining!
Here are some of my ribbons and misc things.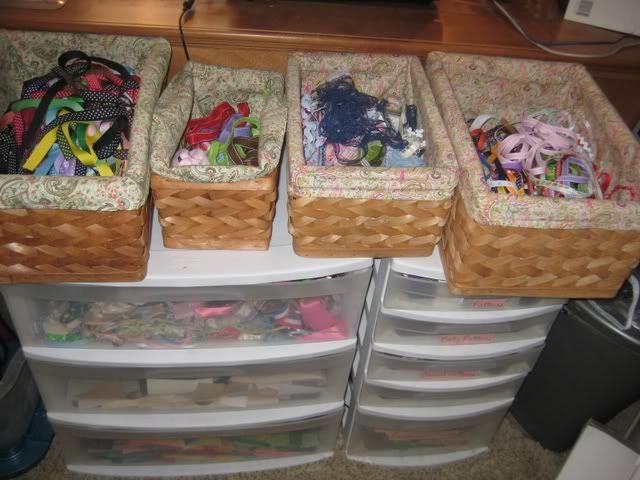 all of the things that were once on my pegs are now in these drawers tucked into another adorable half wall
well, thats all for now....
SO many changes are taking place in my life. In the last 2 months my husband and i have decided that we are joining the ARMY! This is something my husband has wanted to do since before we met 10 years ago. This wednesday he will go and officially enlist and swear in. I AM SO NERVOUS, EXCITED,SCARED, etc etc! With the yucky economy, and need for soldiers, we just feel as if this is the right decision for us. we are both as prepared as we can be to part with one another for his basic training for 9 weeks and then his Advanced training for Many more weeks. After he finishes both courses we will get our orders and move to wherever the Army tells us too! I never in a million years would have though i would leave WARM and BEAUTIFUL arizona, but I am taking every change with an open mind. We are also Both aware that there is a VERY good chance that he will deployed to war for 12 months, and allthough I am VERY scared of this, It is somthing that i have grown to except and understand. I am so Proud of my soilder to be. We have already moved out of our House and in with My Mother and Step Father In Law. I feel so welcome here and BLESSED to have them and all my family and friends to keep Tyler and myself busy while Gary is away. Please pray for us and for Gary's saftey. I am sure I will have my bad days,But more than anything i am SO VERY PROUD of my Love.